Mar 15, 2023
Linguistics Research Paper Topics for Students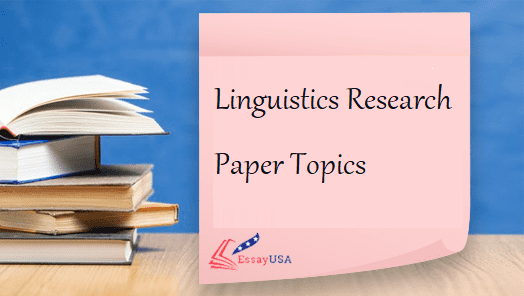 Linguistics as a subject refers to studying different languages from several perspectives. And while you think writing a language essay equals describing the English language, you mustn't get the point. This covers many fields like phonology, phonetics, semantics, morphology, and others.
First, you must choose its topic, whether you have to write a research paper or a language essay.
Interesting Language Essay Topics Just for You
Many linguistic phenomena can be described in language essays. But, at least, considering that there are more than 7,000 other languages worldwide, the choice becomes overwhelming. And you can spend so much time looking through books and generating some suitable language essay topics. But there is a way to make the selection process easier: use our linguistics topic suggestions as an inspiration. So go ahead and choose your perfect language essay topic!
How to Choose a Topic for a Language Essay?
Selecting a topic for your language essay is not a chaotic process. However, it does require following a particular procedure. Below, you can find the steps that will help you to pick up successful language essay topics.
Always focus on your preferences. Essay writing will not be accessible without inspiration. And that comes from choosing the area you are fond of. If you feel like researching the phenomenon of the English language – go ahead. But if you are into discovering other languages – why don't you try that? At least you will be interested in writing your language essay.
Learn the trends. It is always crucial to remember that your essay should be relevant to modern discoveries in linguistics. You can read some works of modern linguists to get ideas of the actual discovery ground.
Research the sources. You want to write your language essays on themes that have a solid background. If you choose a controversial topic, it might be challenging for you to stand the position professionally. So always check the literature field when you decide on a specific topic.
Choose a particular time and field. As much as there are different languages, you can find schools, theories, and linguists. But your task is to single out one period of linguistics development.
Brainstorm some ideas. Write a lot of synonyms for the theme you are weighing up. Read similar topics to your opinions as it will help you to form your language essay topic properly.
Consult your professor. Having more expertise in academic writing, your professor will advise you whether your topic is a great match. The professional consultation will also guide you through the following essay-writing steps.
Foreign Language Essay: Best Topics
It is always helpful to have some language essay topics as an example. In this section, you will find the top 20 themes in linguistics at your disposal.
English as a second language: how to become fluent in English?
What is the influence of the mother tongue in learning other languages?
Gender differences in language
What impact do dialects have on the English language?
Does the fact of knowing different languages increase the level of literacy?
Will any other language replace the English language as the global language?
Comparative analysis of British and American accents
Language acquisition definition
Spanish language in medieval times and nowadays: a comparative study
How do the Central and Northern Chinese differ?
The history of the Italian language
Phonetics of the most melodious language in the world – the Italian language
Why do children learn different languages easier than adults?
Will the Chinese language replace the English language?
The phonology of the words in the English language is borrowed from the French language
The confluence of religion in the Arab language
Analyzing the language branches
Vowel pronunciation in British English
Non-verbal communication in the Italian language
What is the role of applied linguistics in teaching the English language?
Best Language Topics for Research Paper
Are you ready to meet another portion of the inspiration for your language essay topic selection process? Meet our following 25 topics for research papers in linguistics below.
Why is the language arbitrary?
Teaching English as a second language with the audio-visual method
How can language become dead?
Can a person learning English as a second language operate and understand it as a native speaker?
How do babies learn a language?
How does translation cause misunderstanding between different languages?
Is the language connected to mythology?
The origins of the English language
How does verbal communication help to express emotions?
The unique method of learning other languages by Michel Thomas
Is sign language a natural language?
How is the meaning of the words changing in the English language?
How do immigrants influence the English language?
Why should children learn a second language?
What is more powerful: verbal or non-verbal communication?
Cultural linguistics definition
Are any changes happening in the brain when a person is learning other languages?
The harmful impact of computers on language development
Learning a second language with neuro-linguistic programming
Is bilingualism a problem?
How does the language represent our thoughts?
Post-Tudor English language
Is slang a problem for a language?
Do social media use language for influence?
The difference between phonology and phonetics.
Winning Topics for Linguistics Essay
A topic in a language essay is the first thing everyone sees. It should be compelling and beautiful. You can greatly benefit if you catch the reader's attention from the very beginning. Use our language essay topics to make an impression on your readers!
Can the language be beautiful?
Can hate speech be called verbal violence?
Is applied linguistics still useful for modern language research?
Is knowing a written second language the same as knowing a spoken language?
The connection between literature and applied linguistics
Is multilingualism beneficial?
Can language be considered a national identity?
What is the language barrier when learning a second language?
The difference between syntax and morphology
Generative grammar principles
What languages are endangered?
Can the wording be replaced with codes?
What is the difference between adults' second language learning and children's second language learning?
Why are some languages easy to learn and other languages challenging to acquire?
Is the grammar-translation method still relevant in learning the English language?
What is the best way to assess a person's ability to operate different languages?
The language definition by Vilhelm von Humboldt
Post-structuralism in linguistics
Comparative analysis of Shakespeare's English and modern English language
What is the role of grammar in learning a second language?
Research Paper About Different Languages
Is discovering the English language, not your way? Then it would help if you chose something from the different languages research paper topics.
What are the modern methods of studying other languages?
The oldest language in the world
Slavic language branch linguistic characteristics
Analysis of artificial languages
Latin language and its influence on different languages
How did the writing originate? Analysis of writing systems
How do neologisms occur in languages?
Linguistic geography
The definition of Creole languages
Comparative analysis of the Cyrillic and Latin alphabets
Indian language scripts
Ancient Arabic language and modern Arabic language
Is philology a natural science?
Famous linguists of the Medieval era
Great ape language: teaching language to gorillas and monkeys
Why can one language be spoken differently in different countries?
Lingoudidactis: modern and past methods of teaching foreign languages
Does brain injury influence the ability to acquire a language?
Origins of the Arabic alphabet
Foreign languages that are spoken in the USA.
Essay Topics on Learning Languages
Linguistics studies the phenomena of language as a system and the process of learning languages. This is a whole field of exploration, so you might also find these language essay topics suitable.
The right age to start learning a new language for children
Usage of innovative technologies in teaching the English language as a second language
How to develop communicative skills when teaching vocabulary
What are the most effective methods for learning a new language?
What should a modern language lesson look like?
Why is listening to the most challenging skill to develop when teaching languages?
Bilingual children and their psychology
Is grammar important while learning languages?
Overview of the foreign language learning strategies
The effectiveness of using educational software to learn a foreign language
The socio-cultural aspect of learning the language
Investigating cognitive processes while learning a new language
Learning languages through meditation: is it effective?
Is online education more effective when learning a language?
The history of foreign language learning methods
Case study methods in teaching languages
Game-based learning in teaching foreign languages
The direct method of teaching English overview
How to asset speaking skills in a new language?
Teaching new language through literature.
Top Ideas for Your Linguistics Essay
If you still haven't decided which language essay topic is the best pick, we have prepared 15 bonus ideas from which you can formulate your theme for language essays.
How has technology caused the creation of a new linguistic subculture?
What role does body language play in communication?
The evolution of slang
Does someone have the predisposition to learn a language?
Is the English language a cause for other languages to become dead?
Linguistic changes in the English language
What is computational linguistics?
Linguistic dimensions overview
Diglossia in sociolinguistics
Are dictionaries still relevant?
Linguistics of commercial texts
Analysis of "How Language Shapes the Way We Think" Ted Talk by Boroditsky
The linguistics of pictograms
Overview of the translation theories
Is punctuation important in modern writing?
Hire Our Best Writers to Help!
Whether you want to write a language essay or a research paper, you have to spend a lot of time starting from the topic selection and ending with countless proofreading of your final draft. This is not easy, as it requires thorough investigation and dedication. However, you can make writing your language essay unchallenging by turning to our professional academic writing service.
Here are the reasons to you buy your language essay from us:
We provide high-quality services. As soon as you submit your order, you can be sure that your paper is in the hands of professionals.
We submit papers on time. All our orders are submitted strictly on deadline. Moreover, we can handle writing your essay within several hours if needed.
We guarantee confidentiality. If you are worried that someone will recognize you are using our service, then you can be sure about our confidentiality policy—no data leaks or selling data to third parties.
We set reasonable prices. You can afford to order your essay from professionals. Moreover, we always encourage students with many offers and discounts.
Are you still hesitating? Check our website to find out more information about what we provide. If any questions arise – feel free to contact our 24/7 support team. So let yourself relax, and we will do the hard work!