Aug 17, 2020
How To Write A Critical Analysis Essay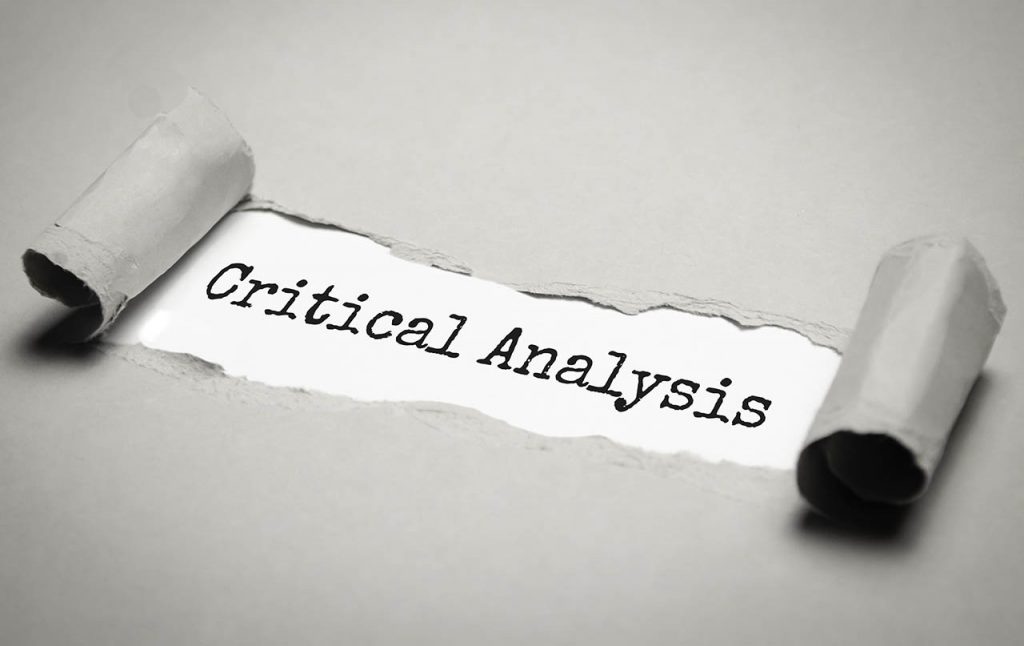 Works of art and literature are created for the enjoyment of the people. However, every literary and artwork can also be analyzed from a critical point of view. In that case, writers of our essay service are talking about a critical analysis essay.
Writing a critical analysis essay is not the most common task in a student's life, but there always comes a time when you need to write a critical analysis essay. If you are getting ready to do this assignment, check out the "How to write a critical analysis essay" step by step guide from our high-quality and college paper writing service.
What Is a Critical Analysis Essay?
Before you can learn how to write a critical analysis essay, you need to find the answer to the most essential question: what is a critical analysis essay? A critical analysis essay, or critical writing, is a paper where the author analyzes and evaluates a work by another author.
The work in question is usually a piece of literature. However, students are often asked to analyze a film or artwork, which can be very exciting but also challenging, since you will need to interpret not only language but also various art devices.
Now that you know the definition of critical analysis essay, you are probably wondering why this type of written assignments is useful to students at all. You should know that learning what is critical analysis in an essay allows you to develop your own critical thinking and analysis skills, as well as helps you hone your language and writing.
How to Start a Critical Essay?
If you look at a typical guide on "How to write a critical analysis essay for dummies", you will see that starting a critical writing paper is one of the most challenging parts of the writing process. So how to start a critical analysis essay that will set the right tone for your writing and will benefit the overall impression of your work, and what does a critical analysis essay include? These are the first three things you need to do when learning how to write a critical analysis.
Identify the author's thesis
Every work of art has a thesis, or the main idea. The thesis will not be necessarily clearly formulated by the author, so you may have to do several thorough readings of the piece to find the overarching message of the work.
Outline the main ideas
There can be only one thesis in a literary work, but there can be several main ideas that support the thesis. If you are struggling with finding those ideas, take another close look at the author's thesis and try to find the ideas that will eventually lead to the thesis if they are developed enough.
Evaluate the author's points
As soon as you have the main thesis and the supporting ideas, it is time to assess whether the author was successful in proving the thesis. You need to look at the supporting arguments and evaluate their effect on the paper and its success. See whether the author's writing is objective or you can easily tell the author's own position from his thesis and ideas.
Writing a Critical Analysis Essay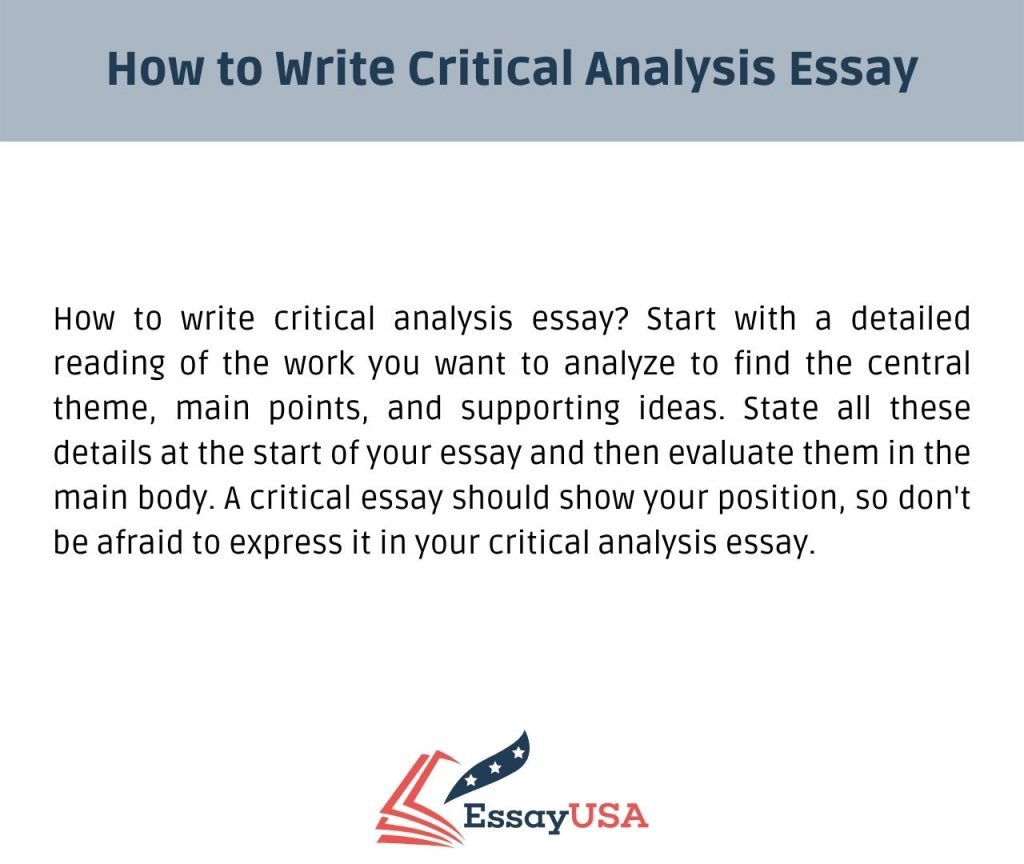 Learning how to write a critical analysis essay requires you to master several important aspects of the writing process. Here is everything you need to know about writing a critical analysis essay if you want your writing to impress.
Critical essay outline
As a student, you have probably written numerous papers on every subject imaginable and are perfectly familiar with the most popular essay structure, which consists of an introduction, three body paragraphs, and a conclusion.
In the case of critical writing, the critical analysis essay format is significantly different from all other written assignments you have dealt with before. Here you will need to implement the four-paragraph structure of critical analysis essay, which includes the following parts:
Introduction

Summary

Analysis

Conclusion
Below you will find an in-depth look at the critical analysis essay structure.
Introduction
No idea how to start your critical essay introduction? Here is how to write an introduction for a critical analysis essay like a professional essay writer.
At the beginning of your introduction, state the details about the work you are analyzing, including publishing information and the reception of the work. Then, identify the author's thesis and the main ideas he used to support them.
The last sentence of your introduction must be your thesis statement, where you will state your main idea about the literary work and the author's success in getting his message across. Note that your thesis statement should not sound the same as the author's thesis.
Summary
When writing a critical analysis essay, you should keep in mind the fact that not all of your readers may be familiar with the work you are analyzing. That is why you need to provide a summary of the events, characters, and ideas depicted in the work. Give your readers a clear understanding of the literary work, so that they don't have trouble with the remaining parts of your paper.
Analysis
At last, we come to the most important part of your critical analysis essay — the analysis itself. This part will take several paragraphs, and each paragraph will be dedicated to a different idea supporting your thesis statement.
There is no need to be neutral with your critical writing — if you have a strong opinion about the piece, whether it's positive or negative, you should not hesitate to make it obvious with your writing.
When analyzing the writer's work, make sure to pay attention to the following three aspects of writing:
Ethos, or the writer's credibility.

Pathos, or the emotional effect of the writing.

Logos, or the ways the author implemented logic in his work.
Each separate idea of your analysis should be supported with reliable evidence. It may come from the literary work itself or from other people's attempts at analyzing the literary work or film.
Conclusion
Now that you know how to write critical analysis essay from the start, you probably have just one more question: how to write a conclusion for a critical analysis essay that will beautifully sum up your writing?
The important thing to remember about the conclusion is that it should not provide any new information to the readers. Instead, you should offer a brief summary of the thesis statement and ideas that your essay was based on.
Finally, you need to offer your opinion about the piece: whether the author was successful in convincing the readers that his thesis is the correct one, whether the literary work can benefit the audience, and whether the readers should give the work a look at all.
Critical Analysis Essay Writing Tips
After learning what is critical analysis essay and how it should be written, there is only one thing left to do: master some final writing tips that will make your paper flawless:
Your critical writing should be convincing enough to make people change their opinion on the literary work if it's different from yours. That is why you need to work especially carefully on your language and wording.

What type of language should be used in a critical analysis essay? In short, you should always use formal language when writing your critical analysis essay, as it's the only acceptable language in the education setting. However, your language should also be rich and memorable.

As a critical writing author, you are not prohibited from having your own strong opinion on the matter and trying to convince the readers that you are right. In fact, a personal attitude towards writing is encouraged!

Whether your opinion about the piece is positive or negative, it should be always supported with facts and evidence. It's not enough to simply say you don't like the piece — you should also tell the readers why you think so.

Even the strongest arguments for or against a literary work are nothing without solid evidence. You need to use enough credible sources in your paper to give the readers the right impression.
Do's and don'ts from our writing team
Do: Search high and low for the most relevant supporting materials.
Don't: Simply offer your opinion as a fact.
Do: Give the readers a clear idea of what the author's work is about.
Don't: Retell the piece in the smallest detail.
Do: Use help from our essay writing service USA if can't finish the assignment on time or have too much on your plate already!