Mar 15, 2023
How to Write a Common App Essay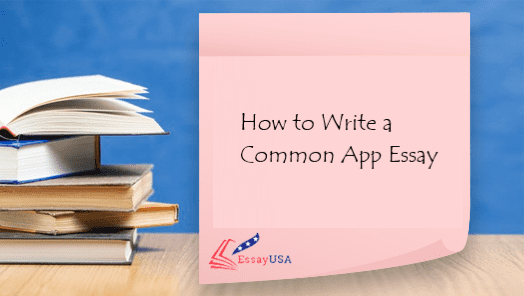 A common application essay will be one of the most important papers that you will ever write in your life. If done well, you will get into your dream college easily.
Most college and university teachers will ask you to write an essay as a crucial part of your application. It may sound like a simple thing to do, but it actually takes a substantial amount of time and effort.
Educational institutions receive applications from many students with similar scores and grades. Unfortunately, they cannot admit everyone. So, they use your essay, along with your letters of recommendation, volunteering experience, high school grades, and test scores, to find out what makes you stand out from the crowd of other talented candidates. Thus, writing an application essay is an excellent opportunity for you to convince an admission committee of your suitability for the course. Remember that you have just one chance to make everything right!
How to Write Common Application Essays
Your essay can make your application more striking. So, how to write common app essay to reveal your genuine personality? How to explain who you are beyond your school achievements? Luckily, you can decide what information to share and how to share it with the reader.
Before you proceed with writing, think about the college or university admission officers who will be deciding on you. How will your essay demonstrate your strengths? How will it share significant facts about your life? Does it explain why you are a good fit for them? These are only some of the questions to be answered behind school achievements in your application. The main point here is not to try to squeeze everything you've seen, done and heard into your essay. After all, you are not writing a biography. So, picking the most crucial moments in your life and covering them in the application is quite enough.
With the right planning, you can write an excellent application essay step-by-step, piece-by-piece. The end result should be a properly formatted, interesting, and engaging paper that makes you proud.
Why the Common App Essay Matters
During the admission process, there are always  several  candidates that have excellent grades for every course. To get into your dream college or university, you should make an admission officer choose you over them. This is where a strong application essay becomes probably the most valuable element of your admission . Moreover, sharing your feelings and views in a written form is the most effective way to reach an admissions committee. Apart from reading about your talents and achievements on paper, they will be able to see what impact you might have  as a member of their campus community.
What Makes a Great Common App Essay?
A great common app essay needs to be deeply personal. In order to convince admission officers to choose you over someone else, you should make them feel a personal connection to you. For this, you need to delve into your feelings by exploring how you think, make decisions, and  act in different situations.
A good common app essay should also avoid cliché topics such as an immigrant's journey or a sports accomplishment. If you really have something worthy to talk about in this regard, feel free to do so. But if it is just the simplest way you can resort to , don't expect a positive result in the end. Ideally, write about more detailed aspects of your life and your personality.
Apart from thinking about what to write, you should also pay attention to how you do it, namely your grammar, spelling, pronunciation, sentence structure, and word choice. Your paper should also be consistent with your writing style. Besides, you should always remember about your target reader during the writing process. Hence,  you should avoid  making religious or political exclamations, radical statements, or anything like that. This is the most popular consideration on how to write a common app essay.
How Your Common App Essay Fits with Your Other Essays?
A common app essay belongs to the portfolio that you send to educational institutions. Every college and university has different requirements for admission essays. So, you may need to describe your biggest challenges for one college and write about your strengths and weaknesses for another one.
Before you start writing your common app essay, you should think about all the institutions that you're writing essays for. Make sure that you have a clear strategy for the entire portfolio of essays. Ideally, you should cover different topics for each. If you have a strong portfolio for your college or university, the best narratives would show you in the best light . If you have a weak portfolio, the best narratives would demonstrate your passion for the major field of study and highlight your accomplishments.
How Can You Get Your Common App Essay Edited?
When admission officers are reading students' essays, they always pay attention to their writing skills. Thus, it is in your very best interest to submit a top-notch piece of work.
When a first essay draft is completed, you should make sure it is grammatically, structurally, and contextually accurate. This means you should provide an admission committee with sufficient information about yourself that proves you are a perfect candidate. After editing your essay, you might need some additional assistance. You can give your app essay to your parents, teachers, and friends. Of course, they are not experts but they can still give you some piece of advice on corrections. It works well to have other people review an essay in two stages. First, they focus on content by looking for information gaps and structural mistakes in the essay. Second, they factor in  the writing style, including grammar, punctuation, and spelling. This kind of editing should not affect the essay tone. Asking someone to write or rewrite it is not a good idea. When a common app essay is ready to see the world, you will most likely need to submit it online or send it along with the rest of your application. Now, all you can do is  wait.
Pre-Writing Your Common App Essay
If you are dealing with a common app essay, the writing challenge may appear especially daunting. The worst thing about starting a new piece of writing is seeing a blank page in front of you. While creating a good app essay takes time, it doesn't need to be stressful. Here are a few nuances to learn on how to write a common app essay effectively:
Evaluate the topic. Which keywords ring a bell for you while looking for topic options? What ideas do they evoke in your mind?
Brainstorm ideas. What are the aspects of your life that address the topic's focus?
Identify your theme. What is the major idea you want to share with your reader?
Proceed with free writing. Is there a lot to say? If yes, then you've found your topic!
Demonstrate reflection. Is your topic suitable for thoughtful reflection? Will an admission reader be able to see that you are a responsible and mature person from your essay?
Once all is done, feel free to proceed with the writing process. Whether you're applying to a League college or a state university, you should focus on yourself, your interesting background and perspective, and  your development. By giving yourself enough time to work through all steps of the writing process, you will manage to develop an essay that goes beyond the other application parts. Eventually, you will see a beautiful paper emerging in your unique tone and style.
Choosing Your Common App Essay Topic
The best thing is that admission officers leave the choice of topics entirely to you. And this is where some risks hide.  Before you decide on the final topic for your common app essay, it's normal to flesh out ideas that could turn into solid content. Your topic should represent you as a student and as a learner. While it doesn't need to be entirely serious, it still should have some intellectual or academic depth.
Admission officers like reading about some sort of change in a student's mindset, perspective, or understanding. They are looking for young people who have gone through some sort of transition that demonstrates their maturity. Through this information, you can demonstrate various aspects of your personality, values, and point of view. Thus, your story becomes the vehicle for conveying a deeper understanding of you as a person.
When it comes to topic selection, you may consider experimenting with the essay form. Admission officers want you to be creative, so they are expecting to see unique approaches from you. For example, you may write poems or even screenplays if you are really good at it. You are welcome to experiment with the form and style. Yet, while your writing can be highly creative, it is important to keep the initial purpose of a college essay in mind.
Writing Your Common App Essay
There isn't one correct way of writing a common app essay. The  writing process is your own creative approach. So, you should use whatever works best for you.
If you are having a hard time creating the first draft of an essay, try to focus on an opening sentence. It will be your hook that will catch the reader's attention and your major idea that  covers the whole paper. With a well-written opening sentence, it will be easier for you to lead the narrative. Here are some useful common app essay tips to help you submit a successful common application:
Start early. Good writing is a time-consuming routine. Don't wait until the week before applications are due to proceed with the paper. No matter how good at writing you are –  the earlier you start, the better content you can provide. With the right planning, you will manage to stick to the deadline.
Choose the right topic. If you have several options for the topic to choose from, read them a couple of times and let your mind focus on the most suitable one. If you're still struggling, write down keywords from each of the themes to see what associations you have with them.
Get writing. Once you know your topic, start planning what you will write about. Then, start developing your ideas by adding more details to each one. This information will become the basis for your paragraphs.
Be original, creative, and honest. Put all sentences in a sequential order by using special words, such as "however," "because," "although," as they make your essay more cohesive. In your explanations, don't try to be too serious. It is normal to use some jokes, sarcasm, or drama. By being honest, you will look more convincing to the reader.
Let your character shine. You are not Shakespeare, so don't try to be over your head. This is your essay, so it should be your self-reflection. Avoid clichés and overused words or phrases because they want to see you do better than this.
Every strong common app essay and the supplemental essays have structure. A single text about your talents and achievements in a paper will not work if you want to enroll in the desired college. That is why you must first write an outline for your paper. An outline is your plan for your article. This is a map with the main points you will discuss in your paper.
Since many colleges set special outline requirements for college admissions essays and supplemental essays, you still have to know the basic outline that can be applied for every type of common app essay. So, here it is!
Common App Essay Introduction
The general impression about a common app paper always forms from the first words or your common app essay introduction. This is the part where your main task is to engage the readers in your personal essay. Your paper introduction will serve as a hook in getting attention to you and revealing the topic.
There are also a few things to avoid when writing your college essay. First, do not exaggerate the truth to impress the readers. Your story should sound realistic. Please do not make the typical mistake students make in the paper introduction by telling what they will write about. Describe your feelings and emotions as you write about your personal experience.
Paper Body Paragraphs
In your writing's main parts, which are body paragraphs, you have to clearly state the examples in which you can demonstrate your personality. The reason why standards are quite important in a common app essay is that they show in practice what you are. Therefore, a strong common app essay should include 3 body paragraphs with the examples and your reflection on them. To compose the body, brainstorm some common app essay prompts and add them to your writing.
Paper Conclusion
Final words are responsible for the aftertaste. Your main task in a common app personal statement and supplemental essays should be to make readers remember your story. No matter the experience you show in an essay's body paragraphs, you should say what lessons you have taken from it in the conclusion. It is also a place to summarize the main points of your paper. In the common app essay conclusion, avoid making jokes. You are free to add a note of humor, but do not play with it in your paper ending.
Choosing a Topic for a Common App Personal Statement
A choice of topic for your essay and supplemental essays might be overwhelming. You will come up with multiple common app essay prompts and ideas. But they should relate to one common app essay topic. So, here are some ideas you can choose from to write your paper.
Share your life story
Show how you tackled the obstacles
Depict the problem you solved
Describe your capabilities and strengths
Show how you grow throughout life
You can experiment with the common app prompts and create your original paper topic. However, the outline of the original paper is not the place for experiments. Instead, a standard "introduction, body, and conclusion" structure should be your plan to stick to when writing a common app paper.
Common App Essay Examples
Before you proceed with a creative writing process, you surely want to check some common app essay examples. What works in excellent essays works because of unique students' identities and their  fit to the rest of an application. By following the links below, you will gain a better understanding of how to create a high-quality common app essay.
https://www.studential.com/us/applying-to-college/common-app-guide/common-app-essay/examples
https://blog.collegevine.com/common-app-essay-examples/
https://blog.prepscholar.com/college-essay-examples-that-worked-expert-analysis
If You are still struggling in writing common app essay, just contact our essay writing service and we will do it for you!