Mar 15, 2023
What is an Explanatory Essay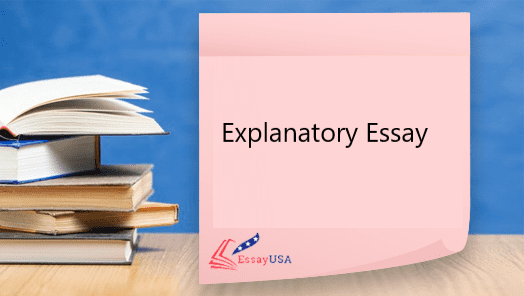 An explanatory essay is essentially the basis of academic communication. It is a vital tool for conveying ideas, and as such, it is held to a high standard for format and structure. 
In order to be taken seriously, it is very important to be able to produce a clean and well-structured piece of writing. The structure will help with readability so that you could convey your ideas in the best possible way. 
So, when you are about to write an essay, what exactly are the most important rules and directions you should follow? Where to even start? 
In this article, we are going to go through everything you need to know to write and deliver a high-quality explanatory essay. We are going to explain how to write an explanatory essay in great detail, go over some possible explanatory essay topics and finally help you decide what explanatory essay format is the right one for your assignment. We guarantee anyone can do it without losing their mind in the process. 
What is an explanatory essay?
An explanatory essay is a common writing assignment in which you deliver and explain an idea, point of view, or event in a neutral manner. 
As the name suggests, this is not a way to try to persuade or convince. It is merely a vessel through which you deliver the information and present statistics, facts, and examples. 
This gives students the chance to acquaint themselves with the topic at hand in a deeper manner. It also gives them a way to convey their views in a neutral and analytical way.
5 types of explanatory essay
There are 5 different types of explanatory essays, and you should choose the one most appropriate for your topic of choice. The two main things you should take into consideration before committing to a certain type of explanatory essay is the topic and your goal. 
Are you trying to compare two different ideas, explain a cause and effect, deliver instructions, or propose a solution to a problem? Whatever the purpose, choosing the right kind of format will be vital for a clear understanding of your idea. Now let's get down to the list of explanatory essay types:
1. Definition and classification essay: We purposefully chose this type to explain first, as it is similar to what you are reading right now. In an explanatory essay, you present what something is, and break it down into easily digestible components. 
You define a complicated concept, intending to familiarize the reader with the issue at hand. For example, in this explanatory essay about explanatory essays, we outline its definition, its types and structure.
2. Cause and effect essay: This kind of explanatory essay is used when you present an event and explain the consequences of it. You can use it for a multitude of topics,  but it is usually most handy in journalism and history.
The goal is to report on an event, why it happened, and explain in detail the ramifications and impact it had. For example, you might be writing about a war in a country, and how it affected the economy or social well-being of the population. 
3. Compare and contrast essay: In this kind of essay, you are usually comparing two different objects or issues. You are also outlining the differences and similarities between the two.
You should be able to explain both sides in detail and how the two relate to each other in an impartial way. This requires a deep understanding of the topics at hand and your ability to draw a relevant connection without an explicit personal preference or bias. 
4. 'How-to' essay: In a 'how-to' or 'process explanatory' essay, you present a problem and an in-depth guide on how to solve it.
It can be applied to almost any topic, from how to make a good cup of coffee to how to compose a lab report. A good " how to" explanatory essay will show the depth of your understanding.
5. Problem and solution essay: In this type of explanatory essay, you are supposed to explain the issue at hand thoroughly. Explain why it is an issue in the first place and offer one or more solutions to it.
It is very important to explain why each solution is viable and how it connects with the issue at hand.
Remember that this information should not come from a personal opinion. 
You should offer solutions based on how appropriate they are, not how much you think they are the best or easiest way to go. 
How to start an explanatory essay
Contrary to popular belief, the explanatory essay does not start with  the first word you type. To produce a quality piece of work that is informative and well structured, you should do some preparation beforehand.
 The first thing you should do is conduct in-depth research and make sure you  really do understand the topic well. This will save you time down the road because you won't need to jump to researching mid writing, which  can be annoying and  break your flow.
It is also very important to pick your sources wisely, so choose only reputable ones  that will support your essay. We would also suggest choosing your sources beforehand and sticking with them. 
After that, try to have a short conversation with yourself and write down a couple of pointers that will guide your writing through the essay. What is your message? Why are you trying to explain it and to whom exactly? That way, you will set a clear tone and intention in your writing.
After doing that, you should have an idea of what kind of explanatory essay you are about to write and the general contents of it. Now is the time to set a general outline of the structure of your essay, so we can jump to the next section of this guide.
Explanatory essay outline
The format that you choose to convey your ideas is important. You want a structure that will be easy to read and will keep the reader engaged through your writing:
1. Introduction
Obviously, you should start with an introduction, in which you present the subject matter and your thesis. This is the time to grab your reader's attention with an interesting hook.
Choose a statement, quote, or statistic that will leave the reader wanting to know more. Follow this with a brief outline of what the main issue of the essay is, and the main supporting information you will be basing your thesis on.
That being written, you should introduce your thesis that will be the premise of your essay.
2. Body paragraphs
This section is usually followed by a couple of body paragraphs in which you back up your thesis. In three or more paragraphs, present facts, statistics, and information from your sources that support the narrative.
Provide more in-depth information about the topic. Each paragraph should address a single issue. You should introduce new information at the beginning, elaborate on it further and explain why it is relevant to your specific topic.
3. Conclusion
You might be thinking this is the last small step of the process, but we  would argue the conclusion to an essay is just as important, if not more, than the introduction.
Do not lose patience and hurry through writing a conclusion, as a good explanatory essay needs a proper conclusion to serve its purpose. How we go about writing a conclusion is in fact very similar to writing an introduction.
You should reiterate your thesis so that you get the reader's attention back to the issue at hand. Then, summarize what you have stated in the body paragraphs. Succinctly mention the main points and how they support your thesis.
After that, finish off with a concluding statement that wraps your essay up nicely. This is the time to explain, in a sentence or two, why the subject matter and the study of it are important or have value.
Useful tips for successful explanatory essay 
There are a lot of things you can do to further polish your writing and elevate your essay to a higher standard. One of those things is checking the paper for clarity.
If you read your essay top to bottom, is there a clear narrative that poses a logical thesis? Is it supported by relevant sources and is concluded in a coherent manner? Are you leaving the reader informed or confused? An explanatory essay should provide a clear message.
Another important thing you should do is proofread and check your paper to make sure there are no grammar mistakes. There is nothing worse than finding a typo or grammatical error in an academic piece of writing.
This is very easily done these days with different grammar checking software and apps. Import your file and the program will find any errors you might've missed.
It is also a good idea to check the paper for unintentional plagiarism. Make sure to add appropriate quotes and cite your sources in the required manner.
And finally, don't be afraid to use your own voice in the essay. The best writing comes out when the writer enjoys what they are doing and their message resonates with them. If you feel there is a place for an anecdote, quote or story that supports your writing, don't be afraid to include it. 
Try to present a different approach than expected. Don't be afraid to think out of the box because teachers and professors appreciate innovative ideas and different points of view. Always remember your essay will be one of many. To stand out just having a perfectly formatted essay will not be enough. Tackle the topic from an unexpected angle in a knowledgeable and evidence based way, and you will wow your reader.
Write an excellent explanatory essay with EssayUSA
If you are still having trouble writing, or you are in a pinch with time, you might be looking for an even easier way to get an explanatory essay done.
Sometimes you can find yourself trapped by an assignment that just doesn't seem to resonate with you. Sometimes you are buried under a mile long to-do list. This is where EssayUSA can help you.
EssayUSA is the most reliable essay writing service in the USA. We provide high-quality papers of all kinds for competitive prices.
If you are out of your depth with a topic, our essay service has a team of professional writers ready to jump in and do it for you. They cover any kind of paper, from essays, research papers, term papers to dissertations. 
In case you are determined to do all the work yourself, you can also contact your writer and they will offer a guiding hand through your homework.

So, wrapping everything mentioned above, an explanatory essay is a piece of academic writing that is used to demonstrate ideas, explanations, and points of view in a non-biased way.
With a bit of dedication and time, anyone can master explanatory essay writing. If you have done your research beforehand and have a clear idea of what the point of your essay is, all that is left to do is write. Still, if there are some issues you want to clarify, our essay writing service always have your back.